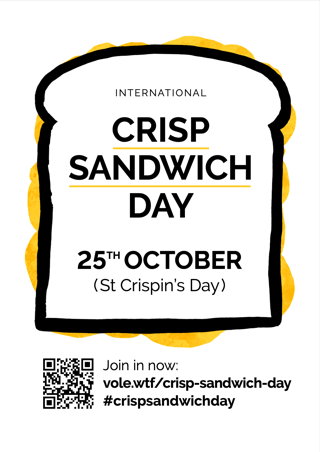 Today we celebrate crisp sandwiches. The humble snack now has its own
annual feast day on 25th October
, which is also, of course,
St Crispin's Day
.
If you're new to this delicious treat I recommend you read The Guardian's
How to eat: a crisp sandwich
. It's very important to use the right type of bread (mass-produced white sliced toastie loaf) and spread (salted butter), as well as the correct style and flavour of crisp.
A few friends are coming round this evening for a traditional Crisp Sandwich Supper and we'll all be wearing our
Apparel of Laughs crisp sandwich t-shirts
. The butties will be solemnly piped in, piled on a silver platter. We invited the
face of Walkers Crisps, Gary Lineker
, to recite the
Address to a Crisp Sandwich
, but sadly he wasn't available.
Address to a Crisp Sandwich

Praise be to you, my childhood treat,
The best of butties, hard to beat.
Today's your day, today we meet
To celebrate.
We'll raise a glass, then take a seat
And fetch a plate.

Two slices, thick, from toastie bread,
With salted butter thickly spread,
To form a dense yet spongy bed.
No guilt today,
A pleasure pure and plain instead,
Put diets away.

Oh my, what flavour! Oh what crunch!
Which crisps do you prefer to munch
When packing sandwiches for lunch?
Cheese and onion?
Salt and vinegar's acetic punch?
Roasted chicken?

You chefs can keep nouvelle cuisine,
Leave pasta limp in its tureen,
Reject the healthy salad green,
And sauce too rich.
Make way for our gustatory queen,
The crisp sandwich!